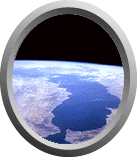 Connecting to the Internet
Windows 95/98
Before connecting to Spectranet, you will need to configure Dial-Up Networking. If you haven't already done this, then please do so before continuing.
The easiest way to connect is by double-clicking your browser icon; in most cases, this will cause Windows to connect automatically. If the auto-dialer has stopped working, however, you may wish to put a shortcut icon on your desktop. To do this, double click on "My Computer", then "Dial-Up Networking". You should see an icon called "Spectranet" in there. Click on it with the right mouse button, and select Create Shortcut from the menu that pops up. Windows will ask you if it should place the shortcut on the desktop -- just answer "Yes".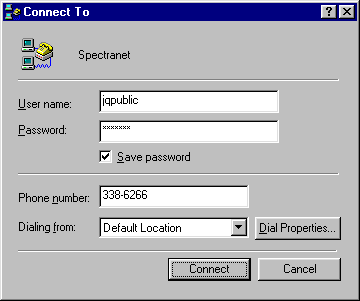 Close the Dial-Up Networking window. You should now see a new icon called Shortcut to Spectranet sitting on the desktop. Double Click on this icon, and you should see the "Connect To" window pop up. Enter your username and password here, then click on "Connect".
Keep in mind that both your username and password are case sensitive -- your username must be in all lower case letters, but your password may have mixed upper- and lower-case letters. New users are frequently unable to log in because they have either LEFT CAPS LOCK TURNED ON, or have accidentally put spaces before or after their username or password. These do make a difference, and will cause your login to fail, so type carefully.
Once you've clicked on "Connect", then the "Connect To" window should disappear, to be replaced by a small "Connecting to..." window, which will inform you of the connection progress. When it has finished connecting, it will change to a "Connected to..." window, like the one shown below. Once this message appears, you are fully connected to the Internet, and ready to go. Just start up your mail reader or web browser or whatever it is you need to do, and remember when you are finished to go back to this "Connected to..." window and click the "Disconnect" button. This will cut off your connection to the Internet until you need it again.

Note: if you need to bring this window back up while you are connected, you can either double-click the Shortcut to Spectranet icon on your desktop, or the small icon (showing two computer screens) located in the taskbar, next to the Windows clock. This will not only give you the opportunity to disconnect, but also to check how long you have been online.